– Mixed reactions have trailed the photos of a lady on hijab who posted her photos on Twitter, asking if she is a Nicki Minaj's lookalike
– Many people felt it was an insult to her religion to entertain such a comparison to the female American rapper
– There were also people who could not understand what people's anger was for a lady who only shared her beautiful snaps online
A Nigerian lady with the Twitter handle @Hafsaat_mohd has posted pictures of her in hijab on the internet, asking people if she looks like American Rapper Nicki Minaj.
While some people appreciated how really beautiful she is, others came under her photos to criticise the comparison, saying a woman of 'virtue' should not be comparing herself with someone who is 'wayward'.
There were others who said she looks more beautiful than the Pills and Portion crooner. Her post has gathered thousands of reactions from people.
See her post below:
As at the time of writing this report, her post has generated over 74,000 likes and close to 2,000 quoted responses.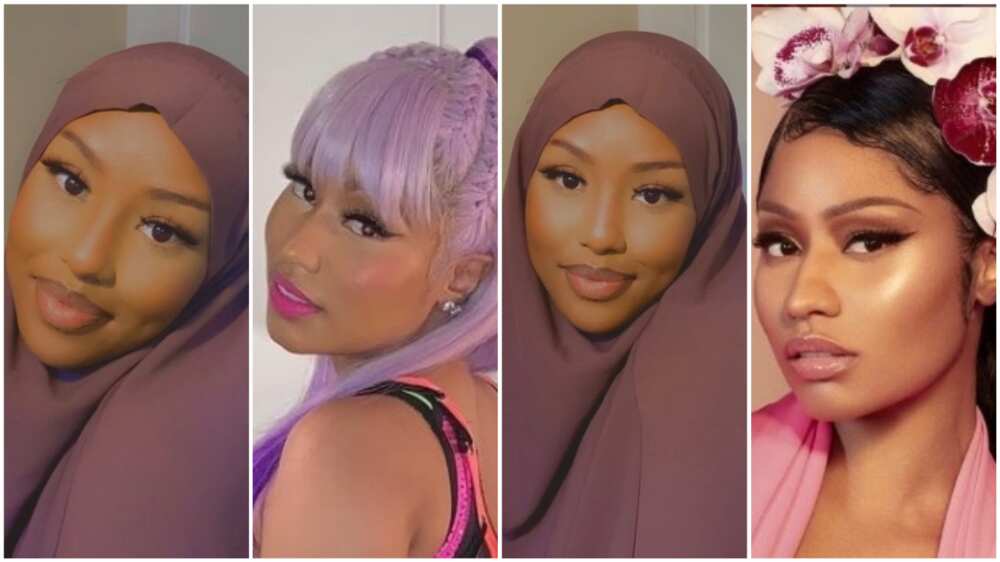 The lady's post seems not to sit well with some people as they expressed their dislike for the comparison. Photo source: @Hafsaat_mohd, nickiminaj
Source: Instagram
Below are some of the reactions:
@al_muhammadu said:
'I am expecting you to be angry if someone told you that you look like Nicki Minaj, to me it is an insult seriously don't compare yourself with this kind of people.'
@Farouqaadam1 said:
'Subhanal_Lah, you're not. Pls disregard their sayings, you're a Muslimah, you're far beyond her; Like the distance between heaven and earth.'
@tunkad_4u said:
'Nicki minaj is a learners from ur personality bcos you possess piety and good sense of humour.'
@goodconstantine said:
'Absolutely. You look almost like her. Love Nicki but it took a bit of work to look like she does today.'
@Red_negro_ said:
'Lmao. Opened this thread to admire fine girl just to see these nobody's in the comments hating on someone greater than their entire lineage. Mad oh.'
@MosesRhyris said:
'All these people saying she should not compare all have Nicki Minaj songs loaded in there phones… Hypocrites.'
Meanwhile, Legit.ng earlier reported that the rapper posted a video montage of her first album to her social media platform to celebrate the tenth year since its release and fans could not believe how time has flown since Pink Friday came out 10 years ago.
The album obviously means a lot to Nicki's fans as they immediately flooded the comments section with messages of memorable moments associated with the album and how much the work means to them even 10 years on.