PSG striker Kylian Mbappe has just been voted the Best Player of October in Ligue 1 2023/24 by the Association of French Professional Footballers (UNFP). This is the tenth time PSG's number 7 has received this award – an absolute record.
Another title for Mbappe. The French super striker surpassed PSG teammate Warren Zaire-Emery and Monaco midfielder Aleksandr Golovin to be elected the Best Player of October of the 2023/24 French National Championship. This award helps Mbappe enter Ligue 1 history as the player who has won the most 'Player of the Month' titles.
Mbappe had a forgettable start to October with a 1-4 defeat to Newcastle in the Champions League group stage and did not make any mark in the victory over Rennes in Ligue 1. However, after that, he continuously shined with 3 goals and 1 assist, helping PSG beat Strasbourg 3-0 and then beat the 'phenomenon' Brest 3-2.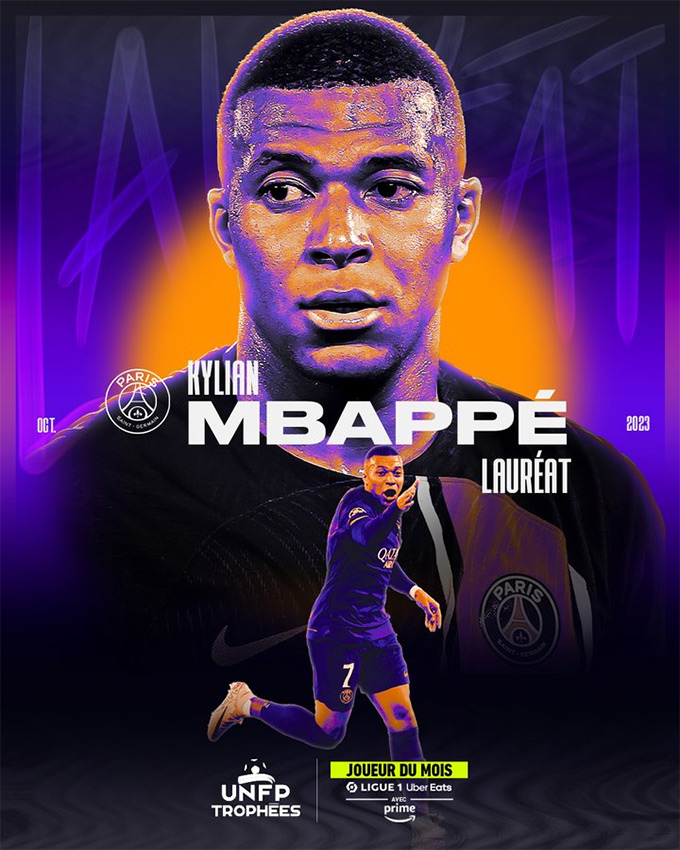 For the 10th time in his career, Mbappe received the title of Best Player of the Month, an absolute record in Ligue 1.
In addition, Mbappe also scored 1 goal, contributing to PSG's 3-0 victory over Milan at Parc des Princes in the Champions League. With 3 goals and 1 assist after 3 matches in Ligue 1, Mbappe succeeded the title of Best Player of the Month from goalkeeper Marcin Bulka, who received this award in September.
Currently, after a hat-trick against Reims last weekend, Mbappe has also gained a big advantage in the race for November's Best Player. Overall, in Ligue 1 this season, Mbappe has 13 goals in 11 battle.
"For him, like the dry leaves of a deceased poet, records and trophies are always gathered with a shovel. And a good harvest has only just begun for the captain of the French national team.
He is Kylian Mbappe, who was named Ligue 1 Player of the Month for the 10th time by UNFP after scoring 3 goals and providing 1 assist in 3 matches. This is an absolute record and it is very difficult for any player to catch up. Congratulations Kylian!", UNFP wrote on the homepage.