When she was young, she was pretty and dressed like a doll, but when she grew up, Shiloh 'turned' into a boy and now Angelina Jolie and Brad Pitt's daughter suddenly becomes feminine again at the age of 14.
Shiloh Jolie-Pitt was born in 2006 as the first biological daughter of celebrities Angelina Jolie and Brad Pitt. Since birth, Shiloh has been the most sought-after and sought-after child in Hollywood.
As a child, Shiloh was very plump and doll-like with big blue eyes, shiny blonde hair and chubby cheeks.
Like other little girls, Shiloh was dressed in elegant dresses by her mother.
However, when she started to get a little older, she wanted to wear boy's clothes like her two adopted brothers, Maddox and Pax Thien.
Brad said in an interview with Oprah Winfrey in 2008 when Shiloh was only 2 years old: 'Shiloh just wants to be called John, John or Peter, like Peter Pan. So we call her John. If we accidentally call her Shiloh, she'll say, 'John – I'm John'. And then I'll have to say, 'John, do you want some orange juice?' and she'll answer. You know, it's just a something cute for parents'.
Angelina Jolie also revealed in a 2010 interview that Shiloh clearly showed her personality and interests from the age of 3. 'Shiloh wanted to be a boy, so we cut her hair short. Shiloh likes to wear boy clothes and thinks of herself as a boy like her brothers,' Jolie confided in Vanity Fair in 2010 .
According to Jolie, her first daughter likes to wear a vest with a tie, a windbreaker, pants or a tracksuit.
Shiloh (right) wears boy's clothes and plays with her sister Zahara.
The girl stood out wearing a T-shirt with the character of the movie 'Star Wars' when arriving at the airport in Los Angeles with her family in September 2013.
At the premiere of the movie 'Unbroken' directed by Angelina in 2014, Shiloh wore a handsome suit like his brothers Maddox and Pax Thien.
Not only outfits, Shiloh also styles men's hair to be groomed and charisma like a boy.
At home, Shiloh often wears men's clothes comfortably. Angelina and Brad always respect their child's preferences.
Shiloh taught his younger brother Knox how to play baseball in 2016.
Shiloh is heavily influenced by her Vietnamese adoptive brother (left), from hairstyle to outfit. 'Shiloh's wardrobe is completely different from the sisters in the house (Zahara and Vivienne), but she is very excited. Shiloh only wears masculine clothes and often steals T-shirts from Pax Thien's closet', OK ! quoting close sources said.
As a child, Shiloh was said to be the closest person to Pax Thien. 'When Pax first came to America, he was a shy boy, so Shiloh was like a protector for his older brother. The two brothers could play games together for hours,' the source revealed.
Throughout the years, Jolie-Pitt's daughter has settled into a tomboy style.
Sometimes many people mistakenly think Shiloh is a boy.
The source said that Angelina and Brad were confused about their daughter's gender, so they went to see a psychologist for advice. Experts advised Brad and Angelina to absolutely not force Shiloh to wear dresses or play with dolls, instead let her choose her own style and wait for time to respond.
'Maybe now Shiloh is a tomboy, but as she enters her teens, she will gradually become more feminine. There is no definite answer yet. The best thing Brad and Angelina can do is create a family environment for her.' filled with love, helping her interact more with friends and taking Shiloh with her in humanitarian activities,' the source said.
At the end of 2019, Shiloh still maintained his masculine style when going to lunch in Los Angeles with his mother, brother and adopted sister. Some sources claim that Shiloh is transgender, but Angelina and Brad have never confirmed it.
Early last year, Shiloh underwent hip surgery. The girl was seen walking on crutches on the street in March 2020.
After a long time staying at home to avoid the epidemic, over the weekend, Shiloh (right) surprised with a completely changed appearance and style. She wore women's denim shorts, hair tie, backpack and girl's shoes when shopping with her mother and sister Zahara on January 8. Shiloh showed off her figure at the age of 14 with a feminine style. After more than 10 years of being loyal to the tomboy style, Shiloh changed dramatically when she entered her teenage years.
But at the age of 17, Shiloh pursued an individual image. Western media said she cut her hair to support Angelina Jolie's humanitarian art project and support Iranian women. Recently, the paparazzi continued to see Shiloh with short hair dyed a striking pink color.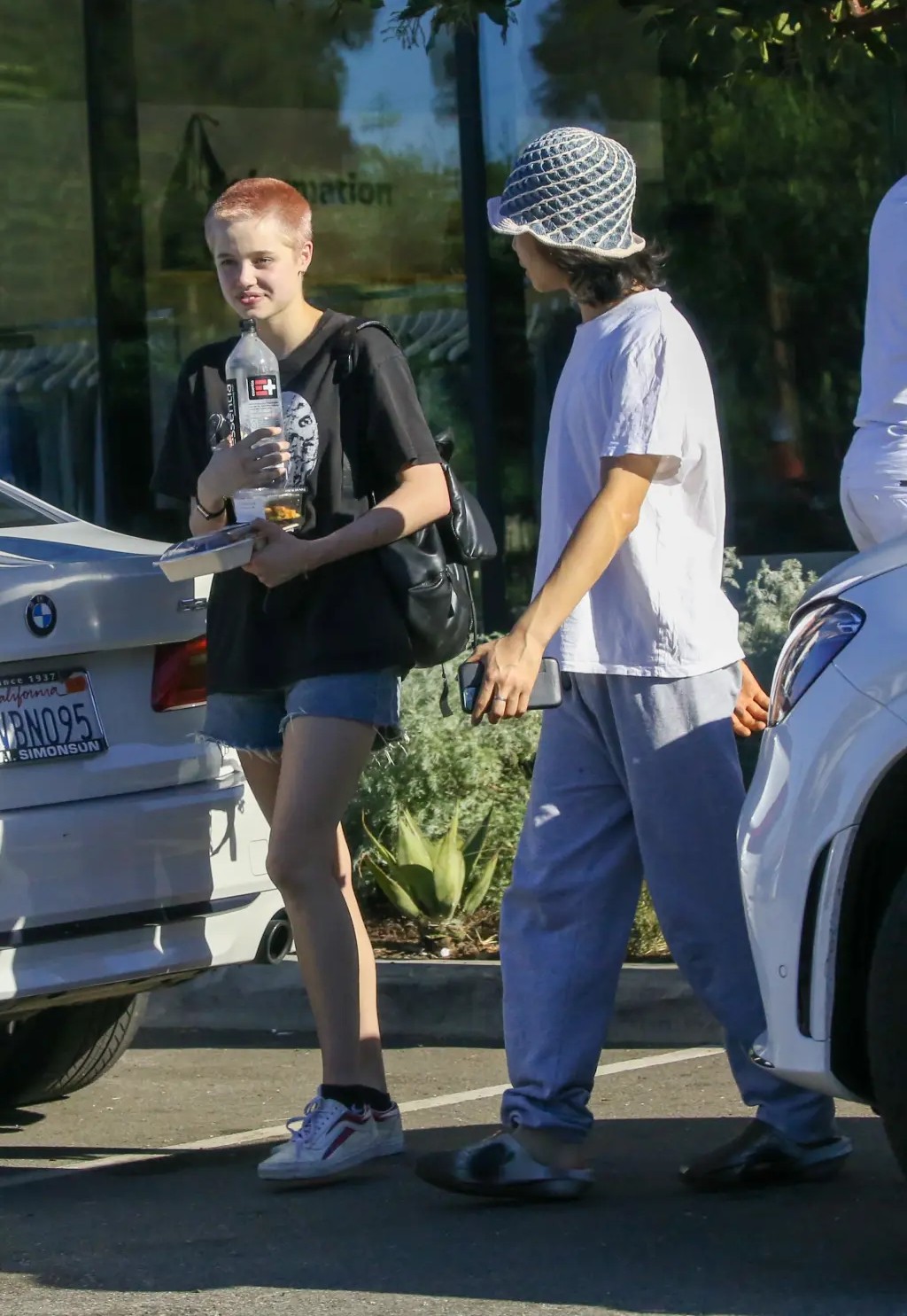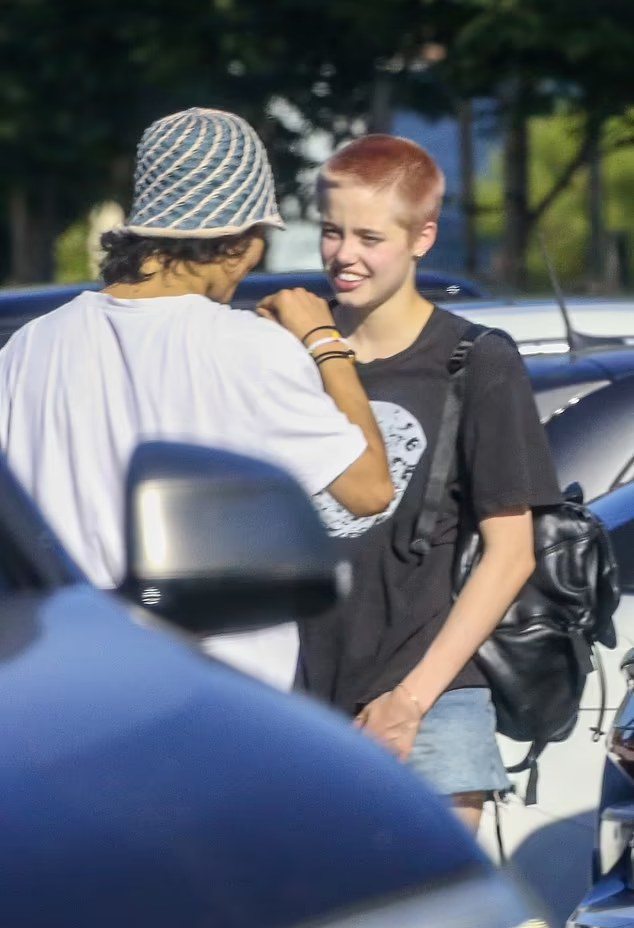 Shiloh returned to her tomboy look to support her mother's humanitarian art project.