Ronaldo has mentioned Messi many times in his comments.
On October 31, Lionel Messi set a record by winning the 8th Golden Ball title in his career. At the end of this event, Ronaldo caused controversy when he commented with a smiley face on journalist Tomas Roncero's post saying that Messi did not deserve this year's title.
'Messi came to Inter Miami to retire but seems to have decided to do that at PSG to focus on the World Cup. He won the World Cup with 6 penalties,' said Mr. Roncero. 'Messi has 8 Golden Balls but only deserves five. He stole the Golden Ball from Iniesta/Xavi, the player who won 6, Lewandowski, and top scorer Haaland.'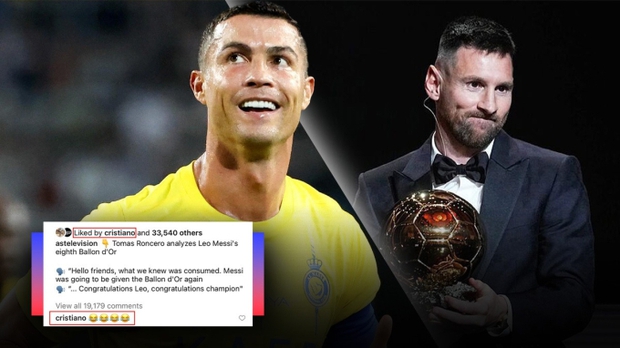 Ronaldo left a smiley comment on the ironic post that Messi did not deserve to win the 2023 Golden Ball
Ronaldo's move made many people angry. They believe that Ronaldo has not yet overcome his obsessions related to Messi. In fact, according to British media, this is not the first time the Portuguese superstar has taken a 'provocative' action against Messi. Below is a list of times when Ronaldo had the intention of harassing his colleagues.
2009: Sharing about player values
In 2009, Ronaldo moved to Real with a record contract of about 96 million euros. This deal turned the Portuguese superstar into the most expensive player in the world at that time.
Sharing on Reuters, Ronaldo is proud of his own price but does not forget to mock other players. ' I cost up to 96 million euros and the others only cost 0 dong ,' Ronaldo said.
According to Oh My Goal, Ronaldo is aiming for Messi, who is still playing for Barca. During his career, Messi has changed clubs twice, but both were free transfers, meaning the parent teams did not lose transfer money.
2011: Claims to be better than Messi
During their careers, Ronaldo and Messi have repeatedly received questions about who is better. Messi did not make his choice and CR7 repeatedly asserted that he was better.
It can be mentioned in an interview in 2011, Ronaldo shared: 'I will not answer this question. Everyone already knows that I am better than Messi . '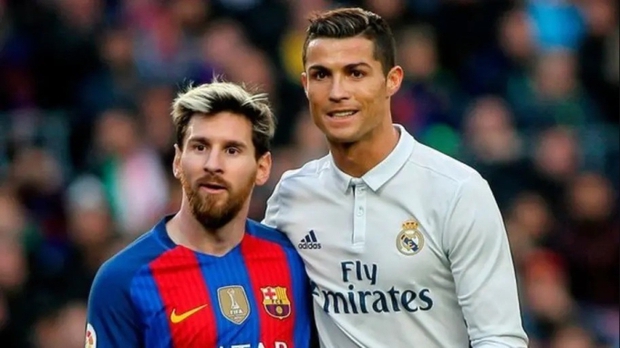 Ronaldo once asserted that he was better than Messi
2012: Using Messi as 'cannon fodder'
In 2012, Ronaldo faced pressure when he could not make an impression on the national team. During the match against Denmark at Euro 2012, rival fans kept chanting 'Messi' to put pressure on Ronaldo.
After the match, Ronaldo suddenly brought up Messi's defeat at Copa America in response. 'Do you guys know what Messi was doing this time last year? He was eliminated from the Copa America on home soil. That's worse than me right now, right?' Ronaldo spoke up. Messi did not give any response to Ronaldo's comments.
2015: Compare the Golden Shoe and the Golden Ball
In 2015, Messi won his 5th Golden Ball title, 2 more Golden Balls than Ronaldo. However, at that time, Ronaldo led Messi in the number of Golden Shoe titles with a score of 4-3.
In an interview, Ronaldo suddenly said that the Golden Shoe award was more prestigious than the Golden Ball. According to CR7, the Golden Shoe is awarded to the best scorer in the European National Championship, not through voting so it will be more fair.
'I like this award the most and would not exchange it for the Golden Ball title. This award does not depend on anyone's vote. A striker's job is to score goals and that is my job love ,' Ronaldo said.
However, after Ronaldo's sharing, Messi won the Golden Shoe for 3 more consecutive years to lead 6-4 in this number of titles until now.
Ronaldo has 4 'Golden Shoe' titles and Messi owns 6 of these awards
2019: He planned to retire if Messi won the Golden Ball
In 2022, journalist Thierry Marchand – former head of international football department of France Football – shared about his 2019 interview with Ronaldo. Here, he said, the Portuguese striker expressed dissatisfaction with Messi's Golden Ball win.
'I agreed to go to Juventus in the summer of 2018 and challenge myself in a new environment even though I was sure that was the reason why I lost the Golden Ball title,' Marchand recounted Ronaldo's words in his autobiography . . 'If Messi wins the Golden Ball this year (2019), I will retire ,' Ronaldo added.
In 2019, Messi won the Golden Ball with only 7 points more than Virgil Van Dijk. Ronaldo only ranked 3rd.
2022: Shocked with 'truth' comment
After Messi won the 2021 Golden Ball, an account asserted that the Argentine superstar did not deserve this title. Instead, the above post believes that Ronaldo and Lewandowski are better.
'The award (2021 Golden Ball) went to Messi, who only won the King's Cup with Barca. He hasn't even scored a goal against Real since Ronaldo left, disappearing in big matches. He 'We won the Copa America – a tournament that is theoretically held every 4 years but now takes place every year. He was also awarded in the semi-finals and finals of that tournament,' the account wrote .
Ronaldo liked this article, commenting with the words: 'Factos' roughly translated as 'Truth'. This share from Ronaldo received tens of thousands of interactions.
Ronaldo's controversial 'Factos' comment in 2022