The AI-generated image of Mona Lisa received a wide range of remarks in the comment section from the users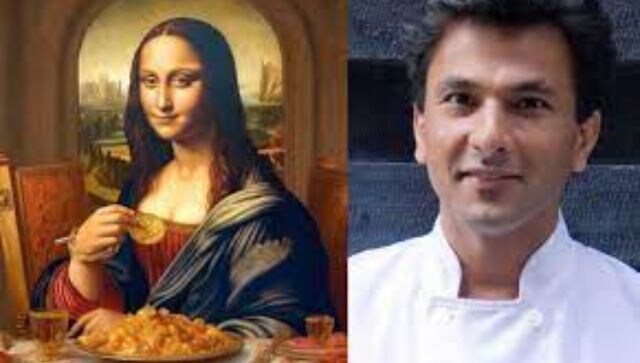 Ever since the emergence of Artificial Intelligence, the world has experienced significant changes. While some individuals perceive it as a potential threat to numerous job roles, others are embracing the advantages it offers.
Regardless of whether it is considered a threat or not, the internet is abuzz with intriguing AI-generated images that captivate audiences. Adding to the extensive collection of AI-generated images, renowned chef Vikas Khanna shared a picture that he personally created using AI-based tools.
The image depicted Mona Lisa delighting in Indian cuisine. Khanna posted the image showcasing the legendary Mona Lisa savouring Indian cuisine on Twitter. The table before her can be seen filled with a variety of Indian delicacies. The caption of the post read, "Okay, I did this with AI. Mona Lisa enjoying Indian food."
The AI-generated image received a wide range of remarks in the comment section from the users. A user sarcastically wrote that he was disappointed that the samosa and jalebi were not included.
This is not the only AI-generated image of Mona Lisa that is circulating on the internet. Multiple modifications have been made to this famous painting and those keep doing rounds on the social media.
A user used the power of AI, specifically Adobe Firefly, to complete the background of this iconic painting. In this image, you can see how AI can unveil the backgrounds of the world's most renowned artworks:
In recent months, there has been a growing criticism of artificial intelligence's involvement in creative fields, encroaching upon the domains of writers and artists. AI has faced backlash for entering these realms, with instances of lawsuits and instances where it has won art contests by modifying the work of previous artists without their permission or fair compensation.
Ron Cheng, a board member of the Yale Visual Arts Collective, told Yale Daily News that all of this artwork is being used without the artists' consent, and the existing laws are not effectively safeguarding their rights.